2019 Huairou International Medical Imaging Summit Forum a success
From May 25 to 26, 2019, the Huairou International Medical Imaging Summit Forum hosted by the Beijing MRI Center for Brain Research of the Institute of Biophysics (IBP) of the Chinese Academy of Sciences (CAS), and the Center for Bio-Medical Imaging Research of Tsinghua University was successfully held on the Huairou Campus of CAS.

Experts and scholars from domestic and foreign universities, research institutions and clinical hospitals gathered in Huairou to discuss the current situation and future of the development direction of medical imaging.

The forum is an academic event focusing on hot issues such as cutting-edge technology of medical imaging and clinical applications, with a total of six topics, including cutting-edge technology of magnetic resonance, blood flow imaging, artificial intelligence and image processing, functional magnetic resonance and neuroscience, ultra-high field magnetic resonance and research of clinical applications.

Xu Ruiming, director of the IBP of CAS, said that high-end medical imaging technology in biomedical and clinical fields, which influences people's healthy living and China's basic scientific research and translational medicine capabilities, is the key development direction determined by the 12th and 13th Five-Year Plans of China. The IBP of CAS will give full play to the comprehensive advantages of interdisciplinary research and make fundamental, forward-looking, strategic and breakthrough research in frontier fields of multiple disciplines. To further promote the development of medical imaging is CAS' duty.

Medical imaging is a subject integrating medicine, science and engineering. The communication and exchange between imaging technology and clinical practice will continuously promote the rapid development of this subject. In recent years, medical imaging technology, which plays an irreplaceable role in healthcare, has developed rapidly. At present, the gradual introduction of national strategies such as brain science and artificial intelligence poses new challenges and brings new opportunities for basic research, clinical application and industrial transformation of medical imaging.

This forum provided a high-level communication platform for experts and scholars in the field of medical imaging and strengthens cooperation between imaging technology and clinical experts.

A total of 24 experts from home and abroad attended the forum. Experts who made speeches are mainly from Johns Hopkins University in the United States, Sungkyunkwan University in South Korea, the University of Copenhagen in Denmark, Tsinghua University, Beijing Normal University, Beijing University of Technology, the University of Nottingham of Ningbo China, Beijing Tiantan Hospital of Capital Medical University, the First Affiliated Hospital of Zhengzhou University, Xuanwu Hospital of Chinese Academy of Medical Sciences, Ruijin Hospital Affiliated to School of Medicine of Shanghai Jiaotong University, West China Hospital of Sichuan University and General Hospital of Tianjin Medical University, as well as the following institutions affiliated to the Chinese Academy of Sciences: the Hefei Institute of Physical Science, the Shenzhen Institutes of Advanced Technology, the Institute of Biophysics, and Fuwai Hospital.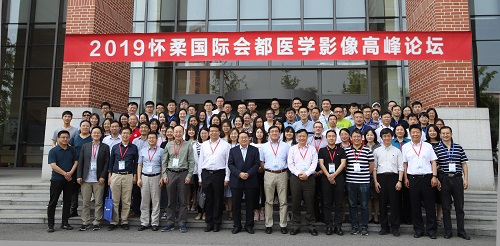 A group photo of the participants