Seoul National University Professor Narry Kim visits the Institute of Biophysics
On Nov 8, Professor Narry Kim of Seoul National University (SNU) visited the Institute of Biophysics at the Chinese Academy of Sciences (CAS), on the invitation of Xue Yuanchao, a researcher at the Key Laboratory of RNA Biology. During her visit, Prof. Kim delivered a lecture titled "MicroRNA Biogenesis and Regulation".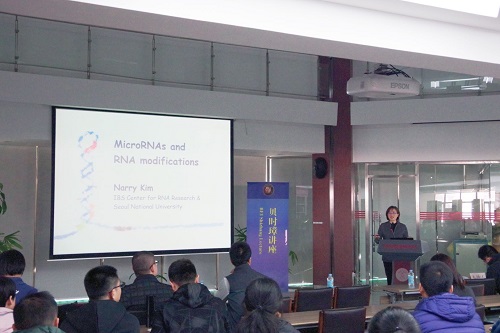 Prof. Narry Kim at the lecture session
Prof. Kim introduced the latest progress that her team has achieved on microRNA processing and RNA modification. Their work has identified that Pri-miRNA and pre-miRNA are processed by Drosha and Dicer, consecutively in the process. Analysis on Drosha protein structures plays a pivotal role in understanding the processing mechanism of microRNA, and it has been found that where Drosha cleaves determines where Dicer cleaves, and also the seed sequence of microRNA.

She also explained what her team has been doing in terms of RNA modification. Using TAIL-seq technology, the Narry Kim Lab systematically studied the role of TUT4/TUT7 in 3'end uridylation of microRN and mRNA in recent years, and analyzed the part of TENT4 and its accessory factor ZCCHC14 in regulating viral RNA stability. It is their finding that removal of TENT4 helps expedite mRNA decay in the hepatitis B virus, which will hopefully provide new clues for disease treatment and medication development.
Audience at the lecture session
Kim is a distinguished professor at SNU and a foreign associate of the US National Academy of Sciences (NAS). As a long-term leading researcher in RNA-mediated gene regulation, she has led the team to contribute to the current understanding of how microRNAs are created and processed by elucidating the mechanism of microRNA biogenesis and identifying several key factors in the biogenesis pathway, such as DROSHA/DGCR8.

Multiple researchers and students expressed their interests in the topics covered in her talk. She also answered questions from faculty and students of the Institute of Biophysics, the Institute of Genetics and Development Biology, and the Institute of Zoology.