Academician Zihe Rao visited the Institute of Biophysicsand delivered the first BEI Shizhang Lecture in 2021
On March 16, 2021, Academician Zihe Rao, the former Director of the Institute of Biophysics (IBP), at the invitation of Prof. Hong Zhang from the National Laboratory of Biomacromolecules, visited IBP and gave an impressive Bei Shizhang Lecture entitled Living in the cell: Understand SARS-CoV-2 replication and transcription from structures.
Professor Rao's research is focused on the structure and function of pathogen-encoded proteins and the assembly of huge virus particles. To date, Rao has published 397 peer reviewed research papers, including 23 papers in Science, Nature and Cell, with over 19,799 citations. His H-index is currently 71 (17 Mar, 2021, retrieved from Google Scholar). He also has 37 innovation patents. In particular, he makes significant contributions in coronavirus research. Since SARS-CoV outbreak in 2003, more than 100 former/current members in Rao's group have been involved in CoV (including SARS-CoV-2, SARS-CoV and other related CoVs) research, and have published 51 research papers with 5,945 citations (116 average citations per paper). In the rapid response to the recent global pandemic of COVID-19, he determined the structures of two key targets for antiviral development (SARS-CoV-2 main protease and RNA-dependent RNA polymerase), and reported antiviral drug candidates that target the main protease and potent neutralizing antibodies.
Seven research papers from these works have been published in Cell, Nature, Science and other journals, including two research papers on main protease (cited 1113 times, Google Scholar) and polymerase (cited 543 times, Google Scholar), all of which have been selected as "Molecule of the Month" by the international protein structure database (PDB). They are one of the most significant and systematic research in SARS-CoV-2 fields.
In the lecture, Prof. Rao introduced the history of coronavirus research in his group. He encouraged young investigators and students to insist on their basic research fields. Later, he presented the latest progress on the transcription and replication mechanism of SARS-CoV-2 and the R&D of antiviral drug and related vaccine.
He also expounded his group's work. At the early beginning of COVID-19 pandemic, Prof. Rao's group solved the structures of the two core antiviral targets, the main protease and polymerase, and also discovered a number of potential inhibitors. They systematically elucidated the molecular mechanism of the complete transcription and replication life cycle of SARS-CoV-2 which provided the key information for understanding the virus.
In addition, Prof. Rao elaborated the key events in the assembling process in the virus life cycle, and showed how the complex formed and functioned in the mechanisms of " central-RTC (C-RTC, nsp7-8-12)", " elongation RTC (E-RTC, nsp7-8-12-13")" and " Cap (-1)'-RTC (nsp7-8-12-13-9) ". Prof. Rao not only showed the dynamic process of virus transcription and replication by animation, but also utilized 3D printing models to display the subtle assembling and processing.
The audience were impressed and enjoyed by Prof. Rao's vivid and detailed lecture. It was a great science feast and ended with warm applause. After the presentation, teachers and students from IBP actively exchanged ideas with him.
Professor Hong Zhang hosted the lecture
Academician Zihe Rao was giving the lecture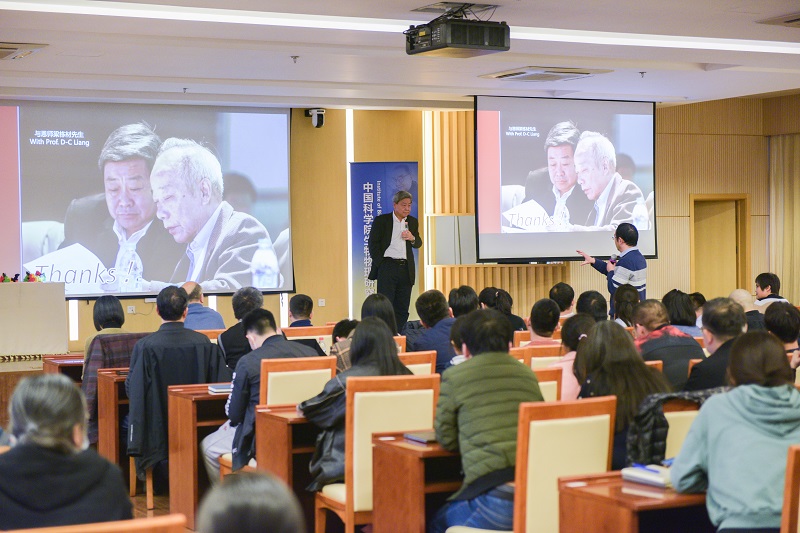 Audience exchanged ideas with Academician Zihe Rao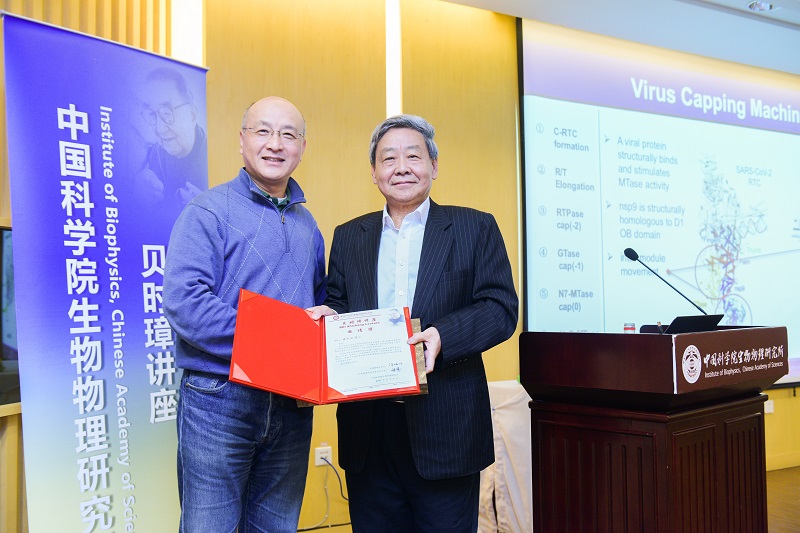 Professor Ruiming Xu and Academician Zihe Rao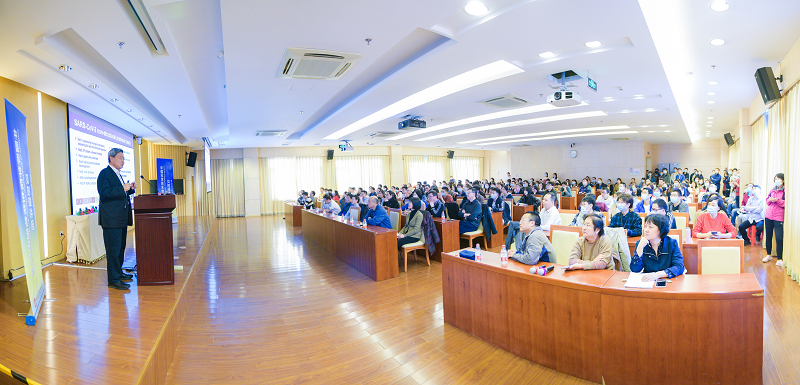 The Audience