Academician Chen Dong from Tsinghua University visited the Institute of Biophysics and delivered a Bei Shizhang Lecture
On March 31, 2021, Academician Chen Dong of Tsinghua University was invited to visit Institute of Biophysics (IBP), Chinese Academy of Sciences (CAS), and delivered a Bei Shizhang Lecture entitled T cells in immunity and autoimmunity. The lecture was hosted by Prof. Bing Zhu.
Prof. Dong focuses on immunology, and made great pioneering contributions in the field of T cell differentiation and autoimmune diseases. His findings have exerted profound influence on the treatment of immune diseases, and provided new ideas for tumor immunotherapy.
In the lecture, Prof. Dong introduced the discovery of two new T cell subtypes Th17 and Tfh cells with micro-array technology based on the ICOS knockout mice, which resisted rheumatoid arthritis and whose antibody level reduced. In the first part, Prof. Dong introduced the differentiation regulation and functions of Th17 cells and then described how the cells were involved in tumors and various immune diseases. He also shared a recent discovery, in which Th17 cells differentiated under different temperature conditions presented different anti-inflammatory abilities and the related mechanisms. In the second part, Prof. Dong explained the regulation of differentiation and function of Tfh cells, which was in germinal center. Tfh cell participated in various infectious diseases, autoimmune diseases and B-cell lymphoma, etc. The research on Tfh cells also provided guideline for the development of vaccines.
The lecture was impressive to all the audience, and the interaction between Prof. Dong and the audience was active. The lecture ended successfully with warm applause.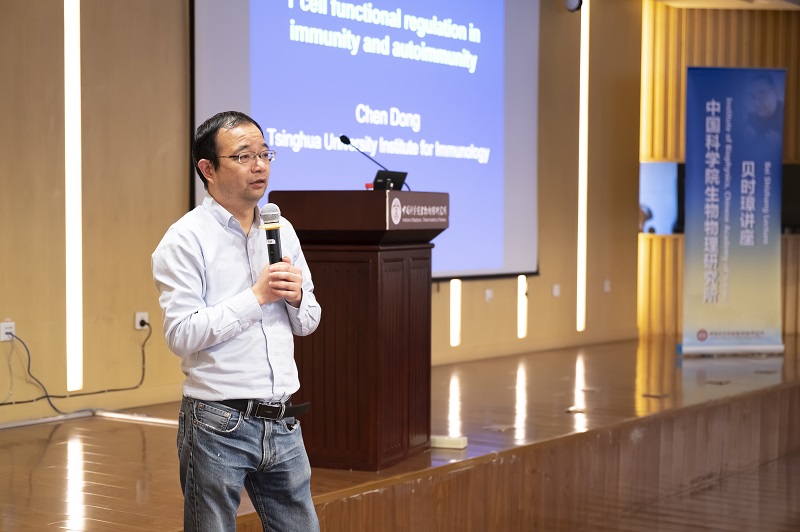 Professor Bing Zhu hosted the lecture
Academician Chen Dong was giving the lecture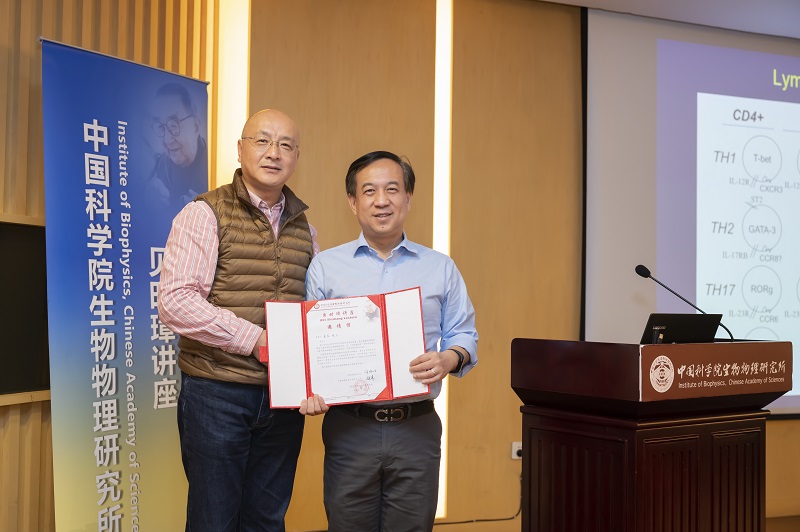 Academician Chen Dong and Professor Ruiming Xu
The audience