Professor Hongwei Wang delivered a Bei Shizhang Lecture at IBP
On May 18, 2021, Prof. Hongwei Wang, a Professor at School of Life Sciences, Tsinghua University and the President of cryo-Electron Microscopy (cryo-EM) Branch of Chinese Biophysical Society, visited the Institute of Biophysics (IBP), Chinese Academy of Sciences (CAS) and gave a Bei Shizhang Lecture entitled "Where are we towards the ultimate goal of Cryo-EM?". The lecture was hosted by Prof. Keqiong Ye.
Professor Wang focuses on elucidating the structure and working mechanism of macrobiomolecular complexes and development of cryo-EM technique. He has made major achievements in structural biology and received numerous awards, including the National Science Fund for Distinguished Young Scholars, Tan Jiazhen Life Sciences Innovation Award and the first XPLORER PRIZE.
In the lecture, Prof. Wang started by reviewing the nearly 100-year history of electron microscopy. He then talked about his 10-year study of human Dicer structure, and illustrated the fundamental role of the technical development of cryo-EM in the structure determination of macrobiomolecules. He mainly shared the recent development of cryo-EM technique from his laboratory, including determination of near-atomic resolution structure using Volta phase plate and Cs-corrected EM, cryo-EM structure determination of a small protein (52 kDa), development of novel type of graphene membranes for cryo-EM sample preparation and discovery of high-quality particles distributing away from the liquid-air interface. He finally projected five ultimate goals of cryo-EM: to use minimal number of images, minimal electron dose, minimal amount of specimen and samples of minimal manipulation to derive the maximal amount of structural information.
The talk followed by an active Q&A session covering many interesting topics at the cutting edge of cryo-EM and was well received by the audience.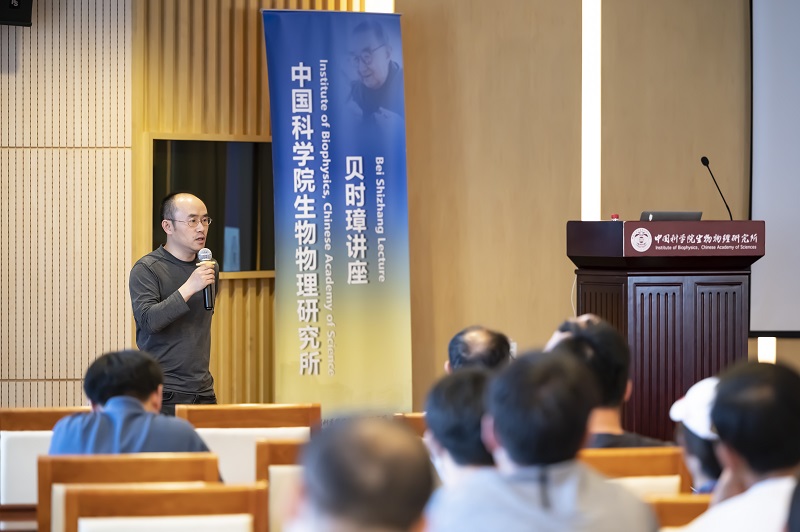 Prof. Keqiong Ye hosted the lecture
Researchers exchanged ideas with Prof. Hongwei Wang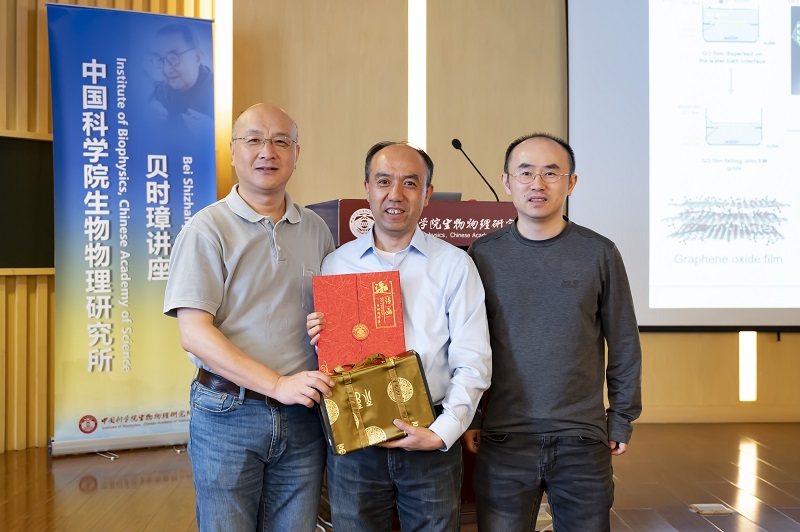 Researchers and Prof. Hongwei Wang

The audience