Researchers Report Rational Development of Human Antibody Cocktails against SARS-CoV-2
Researchers from several research institutes, hospitals and pharmaceutical firms in China jointly published two coordinated papers, entitled "Rational development of a human antibody cocktail that deploys multiple functions to confer pan-SARS-CoVs protection" and "Structure-based development of human antibody cocktails against SARS-CoV-2", in Cell Research journal on December 1, 2020.
Two research papers were jointly completed by WANG Xiangxi, a principal investigator from the Institute of Biophysics of Chinese Academy of Sciences, LI Lanjuan, an academician of the Chinese Academy of Engineering and top epidemiologist from the First Affiliated Hospital in Zhejiang University School of Medicine, QIN Chengfeng, a researcher of the Institute of Microbiology Epidemiology, Academy of Military Medical Sciences, ZHU Fengcai, a researcher of Jiangsu Provincial Center for Disease Control and Prevention, LI Weimin, a professor of West China Medical School/West China Hospital of Sichuan University, and Sanyou Biopharmaceuticals Co., Ltd.
The ongoing pandemic of coronavirus disease 19 (COVID-19) has spurred an unprecedented public health crisis worldwide. According to the World Health Organization, over 50 million infectious cases of COVID-19 around the world have been reported and about 1,300,000 people have died of the communicable disease.
During their scientific studies, researchers found an antibody cocktail with potent neutralization capability against SARS-CoV-2 and SARS-CoV and demonstrated potential cooperativity mechanism for these antibodies.
As the COVID-19 pandemic continues to spread through the population, there is a possibility of the emergence of mutants with abilities to escape antibody-mediated neutralization. A combination of antibodies with potent neutralization activity targeting at least two epitopes could ensure the protection against such mutants. On the basis of their previously identified humanized monoclonal antibody H014 featuring broad-spectrum neutralization functions in β family of coronaviruses, researchers made rational utilization of NAb screening strategy and successfully discovered P17, a potent neutralizing antibody partner against SARS-CoV-2, which confers effective protection in animal model.
Functional data showed that P17 can block the binding of SARS-CoV-2 RBD (receptor binding domain) to ACE2 and interfere with viral membrane fusion. Further studies found that a combination of H014 and P17 antibodies is able to effectively boost their neutralization capability against SARS-CoV-2 and SARS pseudovirus. A combination of P17 and H014 in cocktail can increase the protection capability of monoclonal antibody by three to ten times in SARS-CoV-2 mice model.
To further uncover neutralization mechanism of P17 antibody and decipher the molecular basis for the synergetic effect of the two-antibody cocktail, researchers performed cryo-EM analysis of the SARS-CoV-2 S trimer in complex with H014 and P17 Fabs. According to structural analysis of S-H014-P17 ternary complex, P17 Fabs bind at the top of each RBD, overlapping and covering the contact regions of SARS-CoV-2 RBD with ACE2, forming a "cap" layer (shield-1), while 3 H014 Fabs bind on the side of each RBD filling in the space between the RBD and its adjacent NTD, constructing an exterior layer (shield-2) with a staggered array beneath the cap layer.
A combination of these two antibodies can act as a shield to mask most of the regions of S1, preventing any possibility of the interaction of the SARS-CoV-2 RBD with host cellular receptor(s) and cell surface proteases. In addition, six copies of Fabs work in synergy to prevent the closure of the RBD, restraining any further conformational changes in S1 that are required for initiating viral fusion process.
These studies provided the molecular basis for neutralization of SARS-CoV-2 by the cocktail of antibodies. Principles of NAb-antigen interactions revealed here can also facilitate the design of therapeutic cocktails against other viruses.
Further, the research team has described efforts, involving use of humanized antibodies developed from libraries of mice origin and antibodies screened from libraries constructed from PBMCs of convalescent humans, that yielded a large collection of highly potent NAbs targeting both the RBD and NTD of the SARS-CoV-2 S protein. Cryo-EM analysis of the SASR-CoV-2 S trimer in complex with three pairs of antibody cocktails unveil the molecular basis for synergistic neutralization by antibodies of cocktails the identify additional neutralizing epitopes for a hypothetical 3rd or 4th antibody partner to further reinforce the cocktail, aiding the development of rationally designed therapeutics.
Corresponding authors of the first published article include WANG Xiangxi, LI Lanjuan, QIN Chengfeng and LANG Guojun. WANG Xiangxi, QIN Chengfeng, ZHU Fengcai and LI Weimin are corresponding authors of the second article. The research work received support from National Key R&D Program of China, Strategic Priority Research Program of the CAS, National Natural Science Foundation of China, Beijing Municipal Science and Technology Project and Zhejiang Basic Research Project for Public Interest.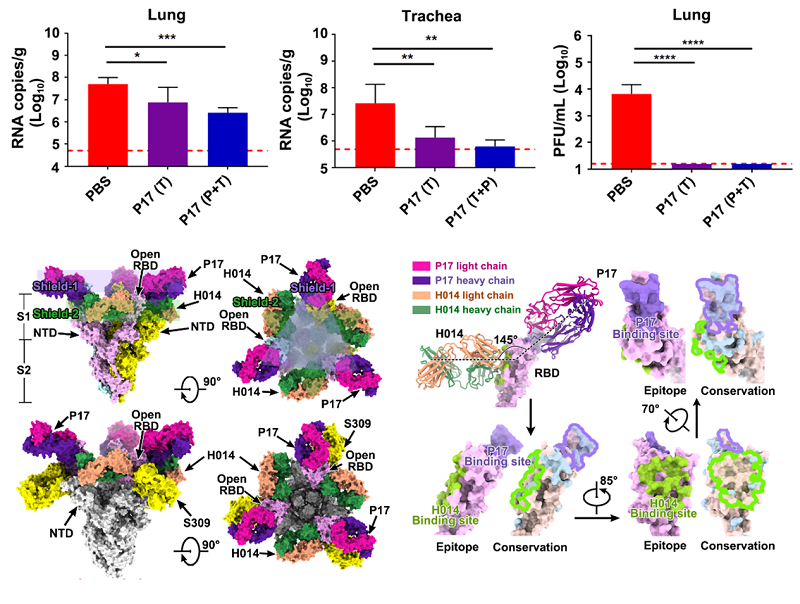 The protection effect of P17 in animal model and the structural basis for its synergetic combination with H014 antibody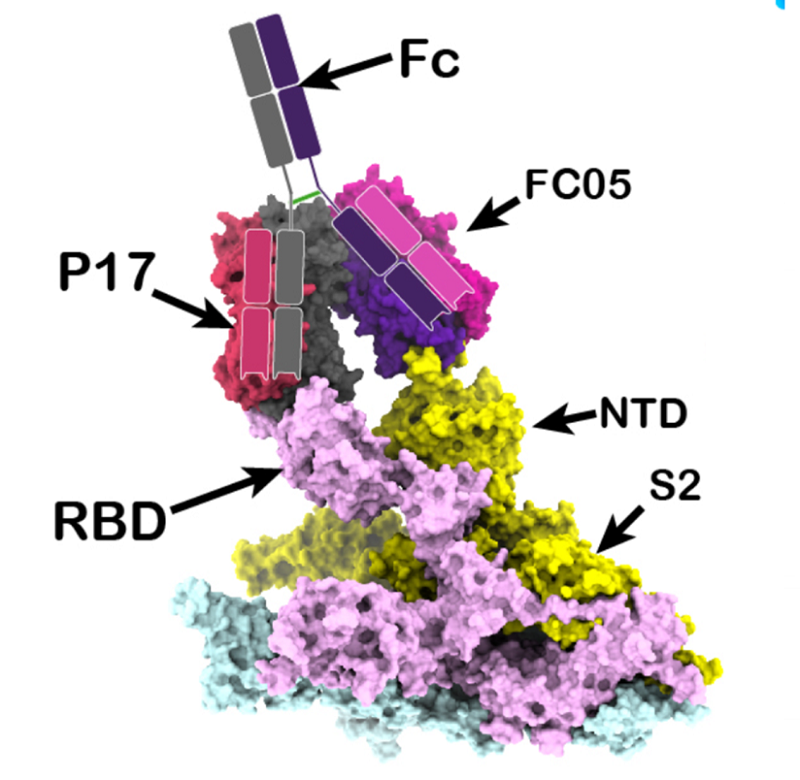 Structure-based bivalent antibody
(Image by Dr. WANG Xiangxi's group)
The web links of the papers:
https://www.nature.com/articles/s41422-020-00444-y
https://www.nature.com/articles/s41422-020-00446-w
Contact: WANG Xiangxi
Institute of Biophysics, Chinese Academy of Sciences
Beijing 100101, China
Email: xiangxi@ibp.ac.cn
(Reported by Dr. WANG Xiangxi's group)