Clinical Trial of Double Lock of HB27 Neutralization Mechanism against SARS-CoV-2
A joint research team in China has utilized the technology of phage display to successfully establish an antibody library of novel coronavirus and select HB27, a specific and potent neutralization antibody against the SARS-CoV-2 (COVID-19).
Participants of the research team included Professor QIN Chengfeng with the Institute of Microbiology and Epidemiology under the Academy of Military Medical Sciences, Professor WANG Xiangxi and Academician RAO Zihe of the Institute of Biophysics, Chinese Academy of Sciences, Professor WANG Youchun with National Institutes for Foods and Drugs Control, and XIE Liangzhi, a PhD holder with Beijing Sino Biological Inc.
Researchers conducted an assessment of antibody HB27's efficacy in the prevention and treatment of COVID-19 pandemic in the established mouse model based on a SARS-CoV-2 mouse and a human ACE2 (hACE2) humanized mouse model susceptible to SARS-CoV-2 infection.
They found that a single dose of HB27 administered either before or post SARS-CoV-2 exposure would remarkably reduce viral RNA loads in the lungs and trachea of laboratory mice, evident with great efficacy in the prevention and treatment of COVID-19. A systematic safety evaluation concerning the administration of HB27, which was conducted in rhesus macaques, showed that it performed well in non-human primates. So far, the antibody has been in clinical trial for pharmaceuticals in both China and the US.
An infection of SARS-CoV-2 in host cells often occurs when the novel coronavirus engages with their cellular receptors and forges membrane fusion with relevant cells. HB27 can compete against ACE2, a receptor on cell surface, to bind with SARS-CoV-2, effectively preventing the attachment of SARS-CoV-2 to host cells. In addition to blocking the attachment of virus particles to liposomes, HB27 has the ability to inhibit SARS-CoV-2 S protein-mediated cell fusion and syncytium formation induced by living SARS-CoV-2.
To sum up, HB27 can exercise its efficacy in the prevention of viral infection by inhibiting the binding of viral receptors and membrane fusion. Researchers conducted studies on the complex structure of SARS-CoV-2 S trimer and HB27 Fab fragments and concluded that each RBD can bind with a Fab fragment. Two of three RBDs in S trimer are in the conformational state of opening and the third is in the conformational state of closure. Three HB27 Fab fragments work synergistically to occlude RBD from binding to ACE2 receptor. Two neighboring HB27 Fab fragments can sterically hinder ACE2 binding, which further explain the neutralization mechanism of HB27 in atomic level.
The findings were published with a title of "Double Lock of a Potent Human Therapeutic Monoclonal Antibody against SARS-CoV-2" in National Science Review journal on December 20, 2020. QIN Chengfeng, WANG Xiangxi, RAO Zihe, WANG Youchun and XIE Liangzhi are corresponding authors of the publication.
It was their latest systematic achievement in the research and development of pharmaceuticals against SARS-CoV-2. Before that, they had already published a research paper entitled "Structural basis for neutralization of SARS-CoV-2 and SARS-CoV by a potent therapeutic antibody" in Science journal and a pair of companion papers in Cell Research journal.
The latest research was funded by the National Key R&D Program of China, the Strategic Priority Research Program of the Chinese Academy of Sciences, the National Science and Technology Major Project on Infectious Disease, the National Natural Science Foundation of China, and the Beijing Municipal Science and Technology Project.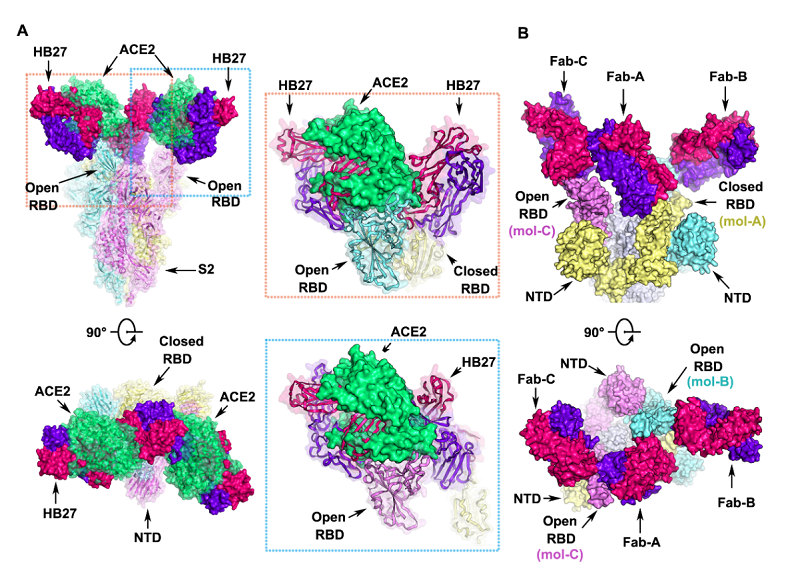 Structural analysis of HB27 neutralization of SARS-CoV-2
(Image by Dr. WANG Xiangxi's group)
Article link: https://www.biorxiv.org/content/10.1101/2020.11.24.393629v1
Contact: WANG Xiangxi
Institute of Biophysics, Chinese Academy of Sciences
Beijing 100101, China
Email: xiangxi@ibp.ac.cn
(Reported by Dr. WANG Xiangxi's group)